Field Trips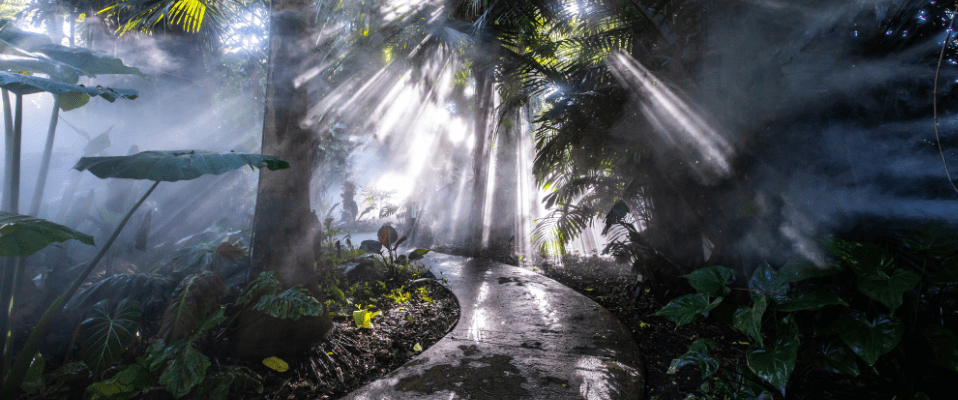 Explorer Program: Live Virtual Field Trips with Fairchild
Virtual STEM Tours
We miss having your students here at the Garden, but until we can see you safely, Fairchild has developed online opportunities to help extend, enhance, and enrich your curriculum. Hop onto Zoom (or the platform of your choice) with your students for a 45-minute educational escape to a unique ecosystem. Pick from the four available themes, each exploring a one of a kind area of the Garden, and highlighting essential STEM concepts. These programs are conducted live so your students can ask questions, interact, and engage with these living laboratories. Each program includes a demonstration of an extension activity that your students can try at home.
Choose from:
Rainforest Exploration
Bring the wonder of a tropical exploration into your classroom! Journey through the only outdoor tropical rainforest exhibit in the continental United States,  complete with a stunning orchid collection, as your students learn about this essential, biodiverse ecosystem.
Desert Adaptations
Extreme challenges lead to ingenious solutions, and desert plants have adapted in incredible ways to deal with one of nature's least forgiving environments. Discover how we can learn from towering cactus and tiny succulents as we try to beat the heat, conserve water, and live sustainably.
Inside the Labs (featuring Wings of the Tropics)
Science can happen anywhere! How do orchids go from what looks like a grain of dust to stunning flowers? How are mangoes and CSI related? How do butterflies taste? Get an inside look at Fairchild's state of the art laboratories, including the metamorphosis lab, where we raise tropical butterflies. Learn how science can be done both indoors and outdoors, using a variety of tools, techniques, and most importantly, good questions!
South Florida Ecosystems (featuring the Pine Rocklands)
Miami is lit….literally! Get an up-close look at the endangered, fire-loving ecosystem that has defined south Florida, the pine rocklands.  Students will explore both the mangroves and a Pine Rockland, gaining a better understanding and appreciation for the nature in our own backyard.
Programs are available on the hour. All tours are currently virtual only. Programs are 45 minutes and are a flat price of $75. Booking is available online, and is open now! Please note that after you book a program, we will contact you to confirm details, collect payment, and answer any questions you may have.
For reservations, please click the button below!
Coming Soon
Virtual Hands-On STEM Program featuring the Million Orchid Project